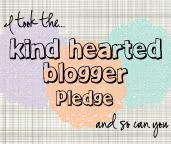 Recently I had encountered some very mean-spirited words on another blogger and it gave me pause of why that person felt the need to do that. It wasn't helping. And so why? I had a moment of wanting to jump in and defend my friend who was being attacked but I didn't after writing her and she said she wouldn't be engaging the person at all and didn't want me to either. And I agreed - it was a sound reason/practice. As trying to defend herself wouldn't have mattered/helped either. And neither would my help.
A few days after that incident I stumbled upon
the Kind-Hearted Blogger Campaign
and knew instantly I wanted to join in.
So I am taking the pledge to:
create, inspire, and admire rather than compete with fellow bloggers
be understanding of each other-- in the blogging community, as well as in the world
stay away from internet/blogging bullying
speak my opinion freely, while still being mindful of other's feelings-- be tactful.
make an effort--no matter how big or small the gesture, to spread kindness or joy to others
acknowledge that I will make mistakes, (I am only human) but remember to learn from them
know that at times I will post about the negative stuff in life, and maybe even some complaining (I am only human) but I will always follow up with something happy/positive too.
believe that this world is a good place, filled with good people.